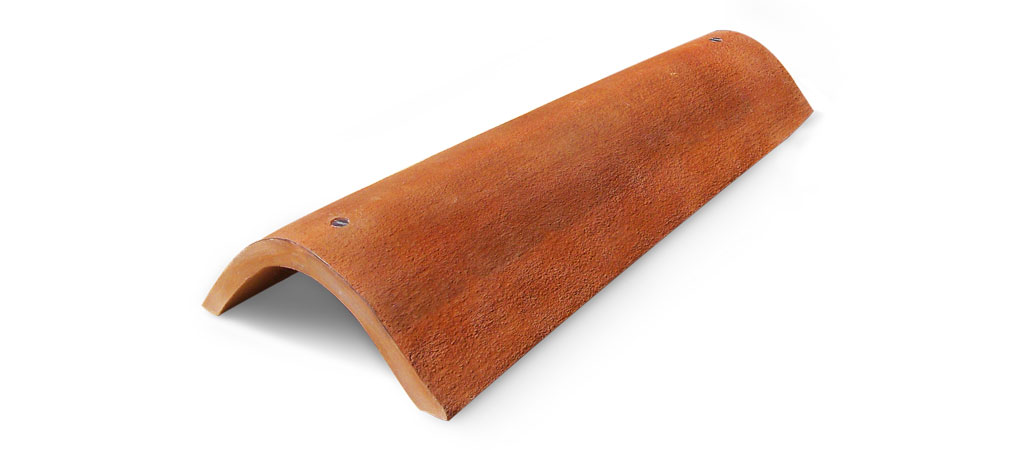 Invisible Solar Rootile
The unique photovoltaic module that looks like a real terracotta roof-tile.
Designed for the heritage, it offers the very best architectural and aesthetic integration.
Invisible Solar is a new technology that takes on the appearance of any building material. Each Invisible Solar module is not only a photovoltaic panel, but an active architectural element with various functionality.


Triple function
Photovoltaic module
Cladding and/or pavement
Photocatalytic material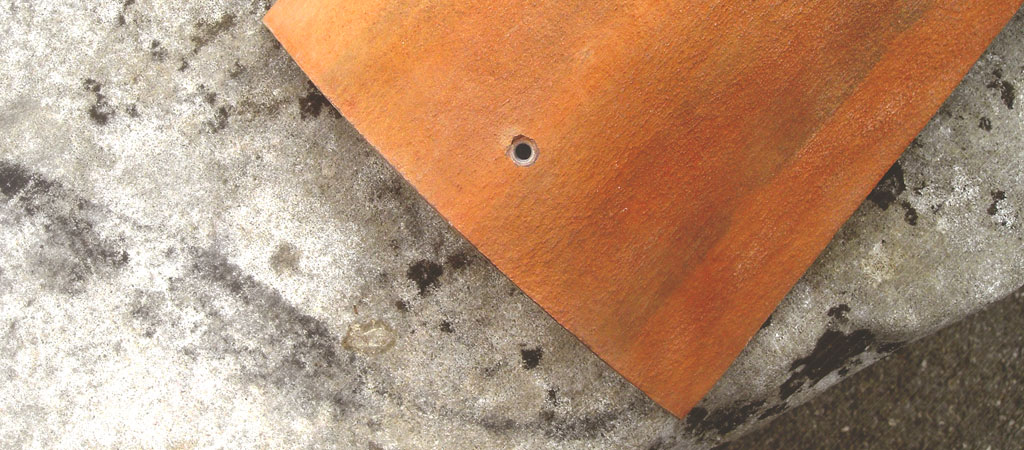 How it works
The Invisible Solar Rooftile is made by an unique indivisible piece, with a very high resistance, that hides and protects the photovoltaic cells that are incorporated inside.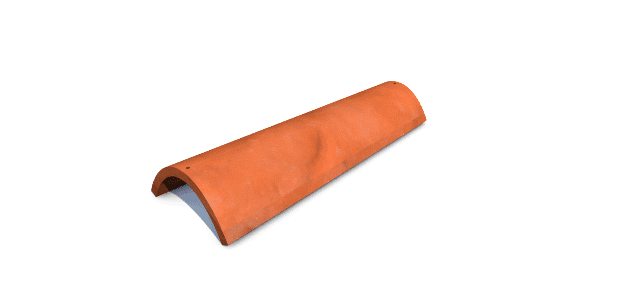 Invisible Solar operation is based on the low molecular desity principle. Each module is made with a recyclable non-toxic polimeric compound, that is specifically processed to encourage the photons absorption.

Common monocrystalline silicon cells are incorporated inside the module, while a special surface which is opaque for eyes but transparent for sun rays, allows the light to enter in it and feed the cells.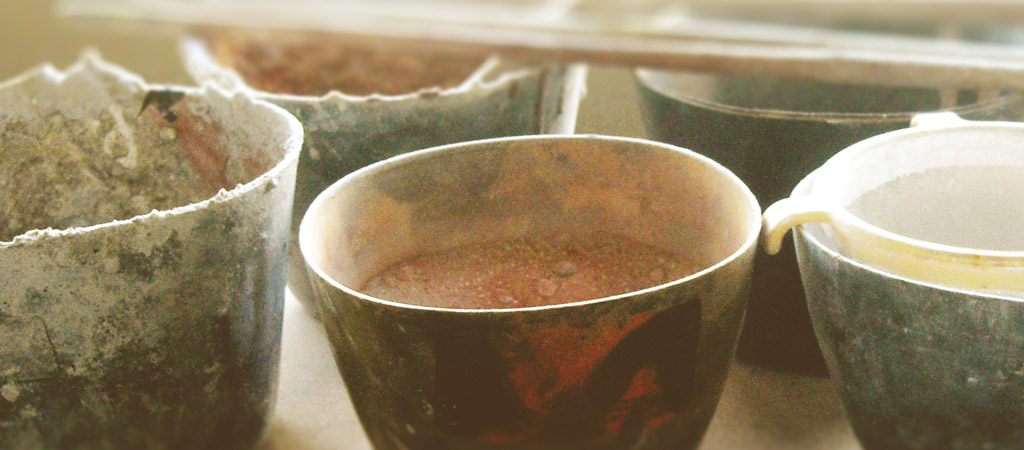 Limited artisanal production
Invisible Solar Rooftiles are artisan-made products,
manufactured by using a production line with limited capacity.
Artisanal production
Invisible Solar Rooftiles are artisan products. This means supplies gather modules that are very similar but never identical to each others. These slighty differences create a more realistic effect - especially suitable for heritage assets.
Our aim is to let the Invisible Solar production line grown - step by step - until all necessary improvement will be reached, and ensure the best ratio between quality, price and production timing.
Supplies availability
The Invisible Solar Rooftiles are manufactured on order. Since our limited production capacity, there may be some waiting times between order confirmation and manufacturing due to the production line saturation.
We suggest to always check supplies availability and timing by contacting us. If possible, it is recommended to order in advance to reserve your supply's availability.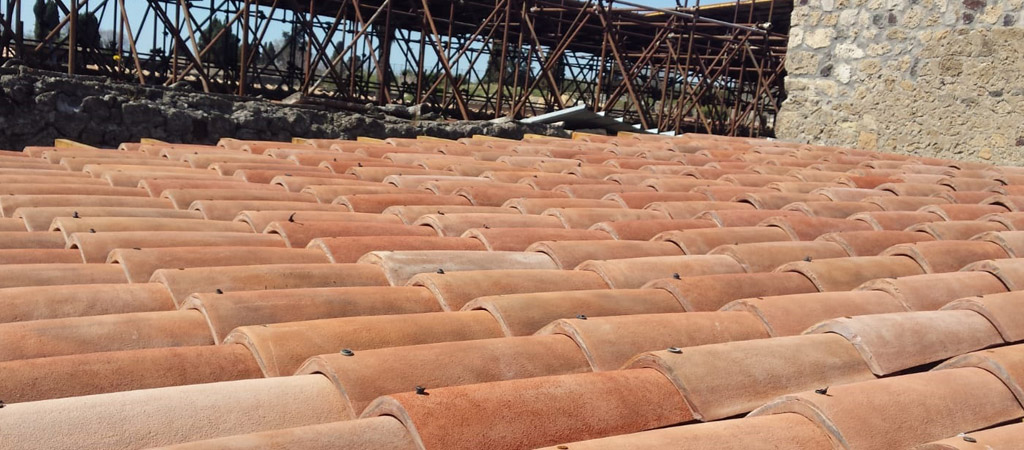 Installations examples
Here below you will find the most interesting projects
made with Invisible Solar Rooftiles.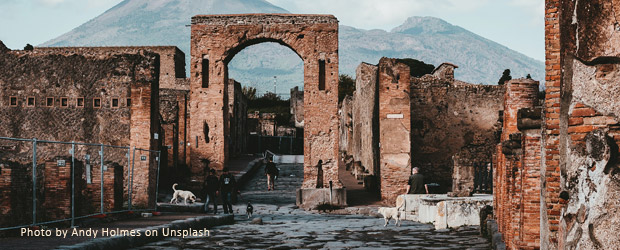 2018 - Pilot installation at Pompeii
This is the first installation that has been made using the Invisible Solar Rooftiles. Installed in 2018, the plant is inside the Pompeii Archeological Park at the "Domus dei Vettii". This pilot installation is related to a wider project named "Smart Archeological Park", which has been developed by Ministry of Cultural Heritage and CNR.
Download the extract from "Smart City" - April 2019 (Italian)
Features
Invisible Solar Rooftile stands out from other photovoltaic technologies and from common clay roof-tiles, thanks to particular features that make it unique.

Integrated
Installed as a ordinary clay roof-tile, it blends in the aesthetic continuity of the roof.

Photocatalytic
Light activates a natural and infinite process that purifies the air while cleaning the surface of the roof-tile.

Strength
It can withstand a high static load, tolerate chemical solvents and atmospheric agents.

Eco-friendly
Made with non-toxic materials, from natural origins or reuse, all recyclable.
Rooftile technical data
Peak power
7,5 Wp

Dimensions
45 x 17 x 13 x 7h cm

Weight
2,0 Kg
Operation temperature
-40°C / +85°C

Protection
IP68

Flammability (UL94)
HB
How to install
The Invisible Solar Rooftile installation requires few simple steps. The method is similar to the one used for classic clay roof-tiles and allows to replace the existing coverage without additional structures.
Easy to install
No additional structures
Replaces the existing roof-tiles
Price & Sizing
We propose below the example of a plant sized
on standard conditions and its price.
134 Rooftiles
Amount of modules
7.000 € + taxes
Supply price
Supply details
The price includes the supply of Invisible Solar Rooftiles along with the connection system to join modules each others and create plant strings. Component and accessories that are necessary to complete the plant are excluded and shall be selected by the technician who will do the installation in accordance with the project specific needs.
Sizing details
The sizing proposed here above is calculated on standard data in order to offer you an approximate reference to easily evaluate what your plant size could be. A more accurate sizing must be made by a professional technician, who will calculate the size in accordance with the roof specific features.
Download
Below the link to download technical and
commercial documentation about Invisible Solar Rooftile.
FAQ
Do you need further information?
Try to find the answer to your questions among the ones here below.
Do you offer design and installation services?
No, we are not qualified to design and install photovoltaic plants. For these services, you have to contact a photovoltaic skilled technician. If the appointed technician would have questions or concerns, we will be willing to provide as much support as possible for a correctly install of our products.
---
Are there other Invisible Solar Rooftiles format? Is it possible to ask for customizations?
No, the Invisible Solar Rooftile is available only with a single format and without customization.
---
Are the Rooftiles available on order only?
Yes, Invisible Solar Rooftiles are only produced on order and supplies will take some time before to be delivered. An approximate esteem of production times is done upon quotation, according to our current production capacity.
---
How much time does it take to produce my order?
Production times depends by the availability of production line. An approximate esteem will be provided upon quotation and defined by using these two values:


Production starting esteem - It approximately specifies when the production times calculation would be started if quotation would be confirmed within its validity;
Production times - It indicates how much time should be necessary to process the order, beginning from its confirmation and accordingly to the production starting esteem.
The supplies bigger than 3kWp are divided into batches with staggered deliveries over all production times. In this case, the quotation will indicate production times for each batch in a specific table.
Definitive production times will be estimated at the order.
---
Where can I purchase the Rooftiles?
Invisible Solar Rooftiles can be purchased directly from us.
---
To correctly install the Invisible Solar Rooftiles, do I need to contact an installer with specific?
The installation of Invisible Solar Rooftiles is easy and can be done by any technician with standard solar photovoltaic skills.
---
Are samples available?
Samples can be purchased by sending us the contact form filled out in the specific field ( download contact form ). It is not necessary to print the form, it can be filled out digitally.
Once the filled out form is sent, you will receive our detailed offer.
Ask for quotation
Do you want to receive a free quotation completed with production times, payment method and shipping costs?